Here is a list of weird-ass things you can do on a Thursday:
Eat a full bag of cheese puffs before noon.
Dye your greys with the wrong color brown.
Put your phone on silent and pretend you are an astronaut.
Put in an offer on an old country store in the middle of rural Pennsylvania—you know, TO BUY IT.
Guess how many I'm 4/4 on?!
The cheese puffs aren't even the weirdest thing on this list, because obviously it's the whole BUYING A COUNTRY STORE ON A WHIM kind of thing that gets me really excited. What a creepy thing to do! It's definitely the craziest thing I've done in a while, but I'm a firm believer in crazy. Once in a while, you just gotta go on an adventure—even if that adventure screams "these floors from the 1800s are gonna fall innnnnn!!!!!!!" Thrilling, right? Just wait until the septic tank results come in.
ANYWAY—what does one do with an old country store? Please find my answers below, in the order that they appear:
Search for dead bodies in the walls
Avoid ghost movies for the next eleventy hundred years
Make a Pinterest board and name it "FUCKED"
Tell everyone in town you're putting a farm-fresh market in there and watch as they squeal
Consider the viability of a speakeasy beer basement, exclusively for locals
Call up your friends from high school, both of whom are now school principals, and figure out a way to use the country store as an entrepreneurship training center for youth
SHIT, DOES THAT RUIN THE BEER BASEMENT?!
Sketch the front porch, complete with rocking chairs
Google ​Dwell's ADU house​ and wonder if it you should buy one for the grassy gorgeous piece of land across the crick
Daydream of gutting the apartment on the second floor of the building, and re-doing it all in a Scottish manor house aesthetic (TARTAN IS GOD)
Think about what to do with the beautiful new barn that's in the backyard—an ice cream shack? A whisky tasting room? A miniature roller-skating rink?
How about a stone bridge over the crick?
Or an English garden?!
OR A WINERY WITH AN ENGLISH GARDEN
Clearly I have some thinking to do!
But, most importantly, I am happy to be doing what I preach: build online income streams. build offline passion streams. Am I saying the word "stream" too much?
Great, we're all peeing now!
BUT YOU KNOW WHAT I MEAN.
Yesterday I was ​on a panel with Teachable​ on building online courses, and when I was asked how they've changed my life, my answer was simple: they let me actually live it. No one gets on the internet and is like "cool! let me build an online business that keeps me stuck inside all day with no contact with the outside world for six days straight." Literally no one wants that, and literally everyone's got that. There's a fatal flaw in the way this industry has developed, and everyone's kinda just….going along with it? Like, what? Are you really going to spend hours editing one video to post on social media that you actually cringe over anyway??? Are you really going to stretch yourself too thin—once again—because you've got too many balls in the air and you don't know how to pull back? Are you really going to keep doing what's harming you, because if you don't you're worried you'll be left behind? And, are you really going to keep perpetually under-earning because you haven't made the time to build products that serve you, and create sales systems that do, too?
That's what ​Selfish School​ is all about: let's use your knowledge to create an online course and sell it on autopilot using my signature sales system designed to bring in $250,000+ annually while working 50% less and traveling 500% more.
You know, so you can buy old country stores and explore your passions and not be held prisoner exclusively to your ambitions.
I was PUMPED to see these comments come through on the Teachable live stream (hiiiiiiii, @JennWhinnem @Moharib1 @DaveGammage @CaitDonahue @MicaelaGiordano @MalicaAhmad and friends!):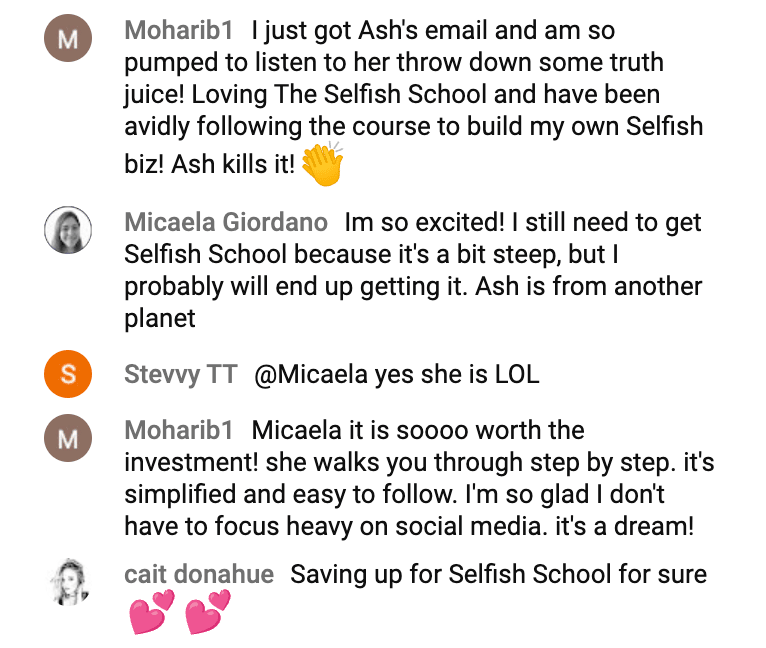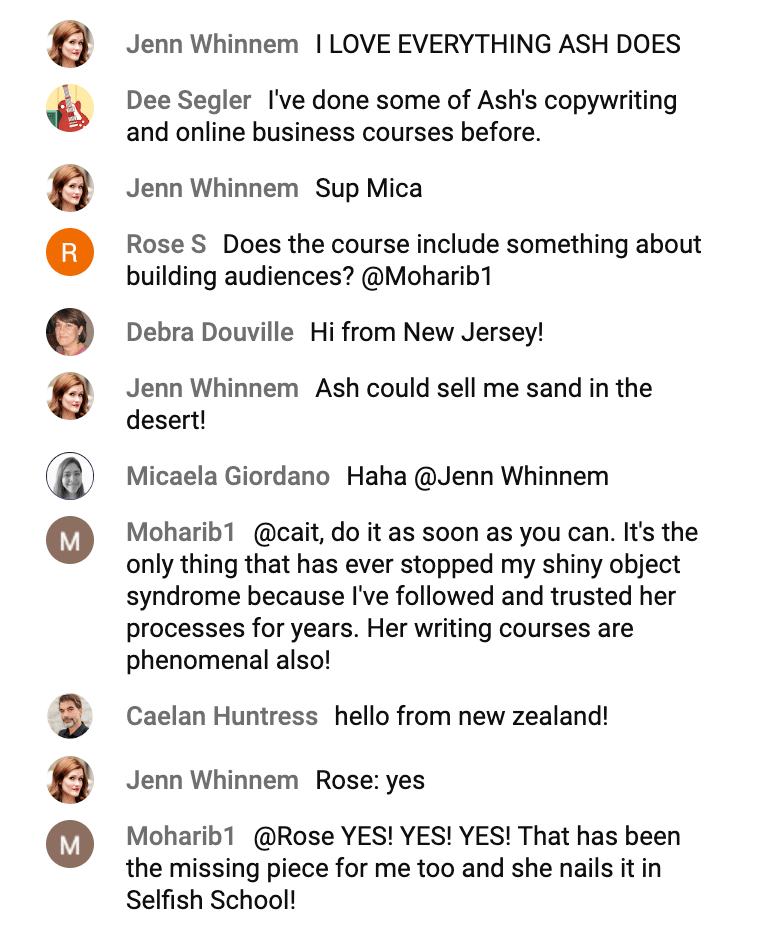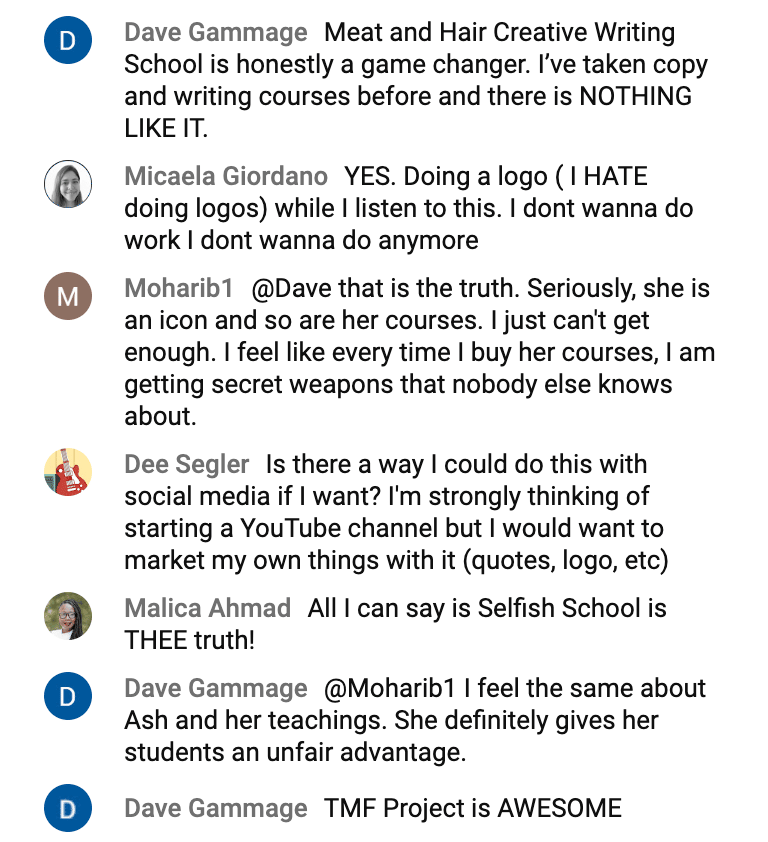 ISN'T THAT SO FUN?!
This weekend's a great time to get started with ​Selfish School​ and go through the system, step-by-step, to build an online course that you can sell on autopilot and give yourself a $250K+ income stream that will SUPPORT YOUR LIFE IN SUCH A BEAUTIFUL WAY.
You never know when an old country store is going to come up for sale.
You never know when you're going to want to up-end your life and do something crazy.
You never know when you'll be pulled to do something rich and fulfilling and challenging and weird.
And, you never know when you'll want to stop working your life away, stop doing meaningless work that doesn't excite you, and start being the kind of person who takes the kinds of risks you'll remember forever.
So you can do the kinds of things that are actually memorable—
—not merely tolerable.