When I think of the perfect small town, I think of parking. (And necking with older boys behind a pinball machine, but that's another day.)
Parking is one of the best, most thrilling benefits of small-town living. You zoom right into a parking spot and then just…GET OUT. It feels criminal, really; who is managing all of this lawlessness?! Look at me over here with my camel-colored autumnal-inspired knee-high faux-leather boots just stepping on out of this vehicle and walking away like I am some sort of demigod.
I grew up in a small town, so I don't know why I'm acting like this is all so novel. Except, after you've spent all your "good neck years" living in different places around the world—places where, even if there are no parking meters, there are still "car watchers" expecting to be tipped to make sure no one breaks in and steals your KitKat—parking for free starts to feel awfully suspicious. Like you are taking up space without earning it. And then I think about what a sicko I must be to think that: do I usually feel like I have to "earn" the space I take up?! Is that why I put so much effort toward being personable, and outgoing, and the kind of person you don't want bang over the head with a hammer? Do I have issues I didn't know about? Who knew free parking could trigger such an existential crisis?
Better not give me any birthday presents, or I'll really need therapy.
I've discovered that there are really only two kinds of small towns: the kind you want to leave immediately, and the kind you want to stay in forever.
I am on the hunt for the latter.
This is why I have found myself in Galena, Illinois, a miniature Hallmark card of a town three hours west of Chicago.
You've probably never heard of Galena. I hadn't either until, ohhhhhhhhh, about twenty-four hours earlier when a sales associate in a mall in Des Moines, where I get all my information, told me that on my road trip across the Midwest in search of nice people and nice porches, I simply could NOT miss Galena. Another woman overheard and chimed in with a scream. "It's sooooooooo cuteeeeeeeeee," she squealed. "And, everything is walkable and there's historic architecture and little shops and vineyards and trolleys and trails!"
Say no more: I'm a sucker for historic architecture. While other people gasp at famous landmarks like the Eiffel Tower or Big Ben (okay fine, I'd shag Big Ben), they're really just one-hit wonders. The Vanilla Ice of architecture. Imagine if Ice, Ice Baby were a monument? It'd be right up there with The Macarena.
I don't gawk at big, showy touristy things as much as I do an unassuming two-story brick house from the 1800s standing quietly on a leafy little side street in a place where no one ever visits. This is the real attraction: not what a famous architect has made deliberately into a grand performance, but what everyday humans have made with their own two hands in their own backyard. When the thing you're making doesn't necessarily have to be beautiful—for example, a house's essential components are merely a rectangular space, with rectangular windows, and rectangular doors—but you insist on it anyway, that's humanity. That's art. It's very much like writing: everyone writes. But, not everyone can write something that haunts you after you've read it. Great writing isn't just about words: it's about craft. It's about painstakingly laboring over the most microscopic of details: the nuance of every verb, the rhythm of every sentence, the way readers will walk away from something and feel it. You are not a neurotic crackpot (but maybe???), but what you do understand is that craft is detail.
While making things is fundamentally human, art is a choice.
And the details we choose to labor over is who we become.
Galena, Illinois has labored. Eighty-five percent of its buildings are in the historic district—a fact that really turns me on. (That's over 800 properties with fireplaces and original crown moulding and "sandwiches in great lighting" chandeliers—I cannot contain my lust.) But what's really fascinating is why there are any buildings here at all: turns out, Galena was THE place to be for opium dens in the 1800s, which is not true in the least, but only marginally worse than what it really became famous for: lead mining. Now that I think of it, maybe all of those historic homes are super duper poisonous, but, hey, at least the name "Galena" makes sense: it's not actually named after a Greek goddess with awesome hair and a spear, but rather it's the technical name for "ore of lead." Less erotic, I'll admit. But still, all that industry sure brought wealth. And, its strategic location on the intersection of Illinois, Iowa, and Wisconsin didn't hurt, either.
The downtown Main Street—called "Helluva Half Mile"—is the Main Street that every Main Street wants to be: a gorgeously-preserved endless row of historic buildings with over a hundred and twenty shops, tons of lively little restaurants, a river alongside it with benches and grass and flowers and cyclists, and enough people to feel happening, but not too many people that you have to wait in line for a margarita. It reminds me of Hudson, New York in a lot of ways, minus the pretension of Hudson, New York. (And the prices.)
But, I'm also skeptical: typically, these kinds of places—the ones with the "cute little shops"—are kitschy little mouse traps that exist solely for tourists. You pass by useless novelty shop after useless novelty shop selling jokey tee-shirts and oversized beaver hats, and I always think to myself: where's the dentist? Where's the market? Where are some oranges? Where are the shops for the real people that live here? I don't want to live someplace where the only place to go is to a tarot card reader selling crystal spells and incense. In fact, I don't ever want to smell incense again.
Fortunately, Galena serves me my head on a plate.
YES—it is indisputably one of the most charming, old-timey, picture-perfect kinds of towns I've ever seen, but real people live here, too. There are real houses with real families and real mini vans and real yards and real markets—and perhaps the most manicured, perfect town park I've ever seen. I want to lick the lawn, just to see if it is real. "If only I had basketball courts like this growing up…" C comments with awe.
Even more exciting is the culinary scene, by which I mean that restaurants actually EXIST. In my hometown, there was only one restaurant that everyone went to for special occasions, and then a heart-pumping array of truck stops, dive bars, diners, pizza places, and gas stations. (Or, maybe the better term is "heart-stopping.")
Here, however, there's an embarrassment of dining options—at least for its size—including an Italian restaurant named Fried Green Tomatoes that we end up going to twice; a high-end wine bar called Jamie's; a French bistro run by a Frenchman (with the best eyeglasses); a real authentic Mexican cantina, a craft coffee house run by a family named The Hellers; an endless array of boutique wineries, micro breweries, and sports bars—and, not to mention a Saturday farmers' market, a distillery, and even a big ol' Irish pub down the road. (Thank god there is always an Irish pub.)
Alas, the very first thing I do is park on the street for free, just to feel that kind of power. HERE I GO, INTO THIS COFFEE SHOP! Nobody can stop me now! Don't gotta know my license plate number; don't have to download an app; don't have to try three different credit cards like I am some sort of feral dog. It's like having an all-you-can-eat buffet of space: life already feels so much easier.
On my way in, a man seated on a bench calls to me and says, "Morning! Have you had breakfast yet? I just had a great one over there." I am taken aback by his friendliness, and yet, this is exactly what I have been searching for: the kind of people who really see other people. It's not so much about wanting some kind of Pleasantville, but about wanting connection. I have lived in some of the biggest cities in the world and often felt pathologically alone. Don't get me wrong: I also like being able to wear killer high-heel booties as I stomp down a city sidewalk—something that makes you look like a diabolical, baby-eating martian in a small town—but heels aren't always a good enough trade-off for belonging. Belonging is how you know you're alive. Otherwise, you're just an invisible phantom of a human, journeying through the world without ever being felt.
Our Airbnb sits just two blocks up from Main Street. The home, we discover, belongs to a well-known news anchor in Chicago; we chat back and forth via the app, and I praise her for her renovations. The home is historic—surprise!—and tastefully updated to maintain the character of the space. I pull on a sweatshirt and spend cozy fall mornings out on the porch with my notebook and my coffee, writing up my plans for the future. People walk by and actually wave. It feels safe here, calm. This is the kind of place you want to plant some bushes, join a volleyball league, wear paint-splattered overalls, and help Gus down at the hardware store on the weekends like in the movies. And there is no higher praise.
Such praise, in fact, that we extend our stay, twice. Galena becomes home for two whole weeks. We never expected to stay for more than 5 minutes, but it feels good here, like wrapping yourself in a patchwork quilt at grandma's. I've never had a grandma, but if I did, that bitch would be give me BLANKETS. I find myself stalking the whole town on Zillow, creeping by neighbor's properties, slowing down in front of their houses like a real perv. With $150,000 price points, it seems too good to be true.
Another striking thing about Galena: there are mountains here. Unlike the rest of the Midwest, the glaciers that once flattened the northern United States did a little pirouette around this part of Illinois. I can vouch: one day we get up and take an early-morning walk around something called Horseshoe Mound, which started off sweet and adorable and cute and innocent because we were looking at birds and prancing along grassy footpaths and talking about the fact that someone needs a brand of binoculars called "BIRD-NOCULARS" (a tragic missed opportunity). But then, suddenly, I am GASPING FOR AIR as we are forced into an advanced plyometric workout requiring Herculean butt muscles and belief in a higher power (the parking lot) in order to scale a 700,000% incline. Lesson learned: never trust a horseshoe.
This becomes one of our favorite parts about Galena: being outside. We rent e-bikes and blast down The Galena River Trail, a forested path that goes along the backwaters of the Mississippi river. We drive country backroads to find waterfalls where we watch two chicks get married. We visit a winery out in a meadow with a sprawling yard full of tables and windchimes and chairs and people singing along to a guy with a guitar perched up on hay bales. Every evening we sit on the porch of our Airbnb and try to decide whether or not we'd be happy here. Would it be too boring? Too isolated? Too conservative?
It's funny: being a nomadic writer means that I'm never in one place for too long anyway—"settling down" is practically a swear word—but there's always a pull to root myself; to own property here, there, everywhere; to have a permanent connection to the places that, for one reason or another, make me feel whole. Different places expose you to different versions of yourself; different aspects of your personality need the right conditions to come out. In this way, traveling is never about a place, really, but about the reflection you see when you're there. And, sometimes you want to bottle that reflection. Sometimes, you want to be that person forever.
Except for when you eat your way through town and then check your reflection. What's that, mustard on your face? Good lord, glutton! But, eating in a new place is when I also get to indulge in my favorite past time: interviewing the locals to try to figure out whether or not they're psychos.
At one point, we meet a super fun gay couple at happy hour in a Mexican joint; they've just moved to Galena from Manhattan, and were renovating a home across the river. They scrolled through photos, proudly showing us the befores and afters. They were giddy over how much further their money went; that they were living in a shoebox studio apartment for so many years; that they could finally afford a big, beautiful home, with a big, beautiful yard. I mentioned seeing a house on that same street for sale. "Buy it!" they urged. "Then we can be neighbors!"
Galena is a favorite getaway for Windy City dwellers—something I like to think is promising. In fact, my lawyer, who is based in Chicago, excitedly tells me she used to own property in Galena; that they had fond memories when the boys were young; that maybe it was time for a visit.
Soon, however, THE GAP comes into focus. There are some Chicagoans who come to Galena to get away, and some Chicagoans who come to Galena to get AWAY.
At Jamie's wine bar, we meet the latter.
We are seated at a giant, over-sized, slabby, fit-for-a-Viking round table. The proprietor, Jamie—a well-to-do woman I'd place in her early 60s—has sat us there, given that the nook of a bar is full. We sit awkwardly for a few minutes, unsure how to casually be at a table this size. (My boobs never know how to behave at tables.)
Then the real fun begins. An older gentleman walks in and Jamie rushes over to make a big fuss. "There you are!" she exclaims, helping him with his coat. He appears grouchy; curmudgeonly. You can tell he has money, but it's understated: he's wearing an everyday working man's plaid shirt, but in $300 material. He approaches our table and sits right down without giving our presence much stock; I instantly get the notion that this was his table, and we were the intruders.
Then, Jamie suddenly makes a beeline toward my side of the table. As if we are old friends who didn't just meet five minutes earlier, she bends down and starts whispering breathlessly in my ear.
"Okay, SO—the story is he recently lost his wife and sold his giant mansion and downsized into a small apartment nearby—and, he's ever-so-lonely and one of my dearest friends and also one of the most well-known businessmen in the region, so if you could just make small talk with him? Get him out of his shell? I would be so grateful!" Then she zips off like a hummingbird, bouncing between the other twenty people she counts as friends.
I accept the challenge because, let's be honest, I was totally going to chat him up anyway. Besides, what better person than a business mogul straight out of the 17th century?
I attempt a few warm-up questions. He answers curtly, as if he'd rather spit. I feel like an inconsequential teeny bopper little girl. But then I decide that maybe he just has a hearing problem, because I like to pretend that anyone who is mean just can't hear me. (Don't use my coping tools.)
Turns out, he had built one of the first floating casinos over in Dubuque. Dubuque is an industrial, manufacturing city twenty minutes away from Galena, full of old factories being renovated into a very cool and up-and-coming warehouse district along the Mississippi. I try to pry some more information out of him, but he's indifferent to my charms.
Fortunately, another couple saves me from myself. They plop right down at Arthur's Table with us. Ah, this is the local's table. They look like the kind of people who would be named Jim and Rhonda. They have a little maltese dog with them, Ted, which weirdly turns out to be Jamie's dog: they're just babysitting. I find this amusing—and somehow mildly disturbing.
Jim and Rhonda were from a wealthy Chicago suburb, but were now retired and living there in Galena in what they kept referring to as "The Territory." I thought this was an inside joke, but no: "The Galena Territory" is the actual name of a private residential community just six miles out of town with a golf course, equestrian center, and boating and fishing and nature trails. Jim and Rhonda spend an inordinate amount of time telling us how much they love seeing deer in their yard. (Turns out, distant, blurry, out-of-focus photos of deer takes the cake for "most boring pictures a stranger could ever show you on their phone.")
At one point, they ask us our plans. We tell them we're headed to Chicago. The reaction is intense.
"Oh god, don't go to Chicago!"
They conversation veers straight into murder and crime and shootings and danger, after which they refer to the mayor of Chicago, Lori Lightfoot, as "Beetlejuice." They snicker.
"I wouldn't risk my life. The whole place is a disaster. We never go into the city."
The old man grumbles something about the worst politics he's ever seen. They all nod in agreement.
I could've written this off as "Jim and Rhonda are stupid," but this wasn't the only instance.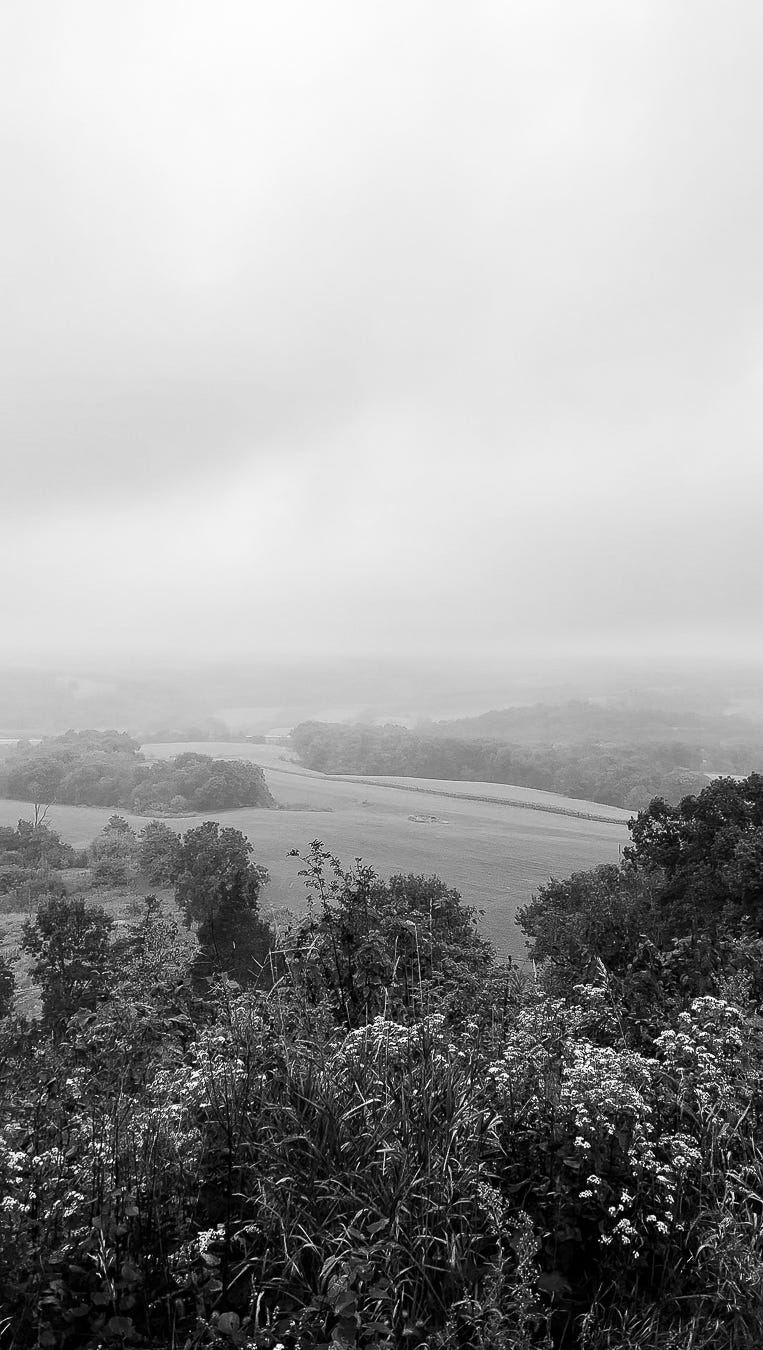 Another afternoon, we visit one of the local breweries. We start talking to the couple next to us. They're from Lowell, Indiana. Early 30s. Patrick and Patty. They pull up their house on Google Earth to show us where they live, delighted by the fact there was no one for miles in any direction. (Though they did have "a latino friend" who would come over for Friday night beers. I presume they mention this because Carlos proudly says he's from Costa Rica to literally everyone he meets.)
We tell them of our road trip.
"Oh god, don't go to Chicago!" I am frankly shocked to hear this out of the mouths of younger, less crotchety people. Especially since this isn't my first time in Chicago, a city I love.
"Not even The Magnificent Mile?" I press.
"The what?" Patty questions.
"The Magnificent Mile—where all the tourists go."
"Oh, I don't know what that is," she replies. "I've never actually been to Chicago myself."
I don't know what my face did, but I can tell you that C, a Chicago virgin, is starting to get worried. Should we really go? he asks later. And this, I think to myself, is how fear spreads.
We meet another couple in Fried Green Tomatoes. They were enthusiastic casino go-ers. Built entire vacations around casinos. I'm pretty sure they print out pictures of casinos and hump them at night. (At least maybe more interesting than deer.) In all their casino-ly wisdom, they thought we should seriously find a way to get up to Marquette, Iowa, because their casino was the BEST. I don't explain to them that I'm not a casino person. But, on the way out they assure me of one thing: "Whatever you do, don't go to Chicago." I am going to make a song.
The Galena River Trail takes you straight into the Chestnut Mountain Ski Resort. We head inside to check it out. The bartender is my kind of people: Older. Gruff. Takes no shit, but is a damn good worker. She tells us she lives further down the river, where it's cheaper; that Galena was full of snobs. I ask her about Chicago. "All I know is that they're teaching sex ed to second graders," she says. "I wouldn't go to Chicago—it's really dangerous."
Obviously, this narrative is partially a reflection of the political landscape in America right now: Chicago doesn't even rank in the top 15 most dangerous cities in the United States. (Philadelphia, where I've lived off and on for years, is number fifteen.) In fact, according to the Chicago police department, the murder rate fell 17% in Chicago this year. It's hard to talk about a place without also talking about its politics. But, politics are certainly driving fear more than actual crime is. (For the record, we had a great time in Chicago—so much so, that C has now dubbed it his favorite American city, even over New York.)
I can't help but notice that Galena is full of contradictions: conservative and liberal. Local and newcomer. Young and old. Chicago or….I'D RATHER DIE. Just as it sits gingerly on the intersection of three states, it also seems to sit gingerly on the intersection of humanity. This, however, may be a good thing: no place should be an exclusive enclave of anything, because then it is not a place, but a shrine.
On our last day—a Sunday—we throw on sweats and drive the country backroads of Jo Daviess County, gaping at wildflower meadows and old cemeteries and big, swaying oak trees. Just when we're about to turn back, we bump into a building that looks like an old general store crossed with a saloon from the wild west. It's called Council Hill Station, and I find out it's actually a train depot dating back to the 1800s. An "open" sign hangs in the window, yet no cars are outside.
We enter with a mix of caution and rebelliousness. Inside is a whole eclectic world of curiosities: big glass cases with old trombones; old wooden cabinets filled with glass vases and records and lanterns and antique telephones; walls covered in old black and white photographs; an old-fashioned table with old-fashioned chairs; an old sewing machine; a giant, imposing wood stove.
We call out, worried we're trespassing. A woman suddenly emerges from the back, surprised to see us. She is thin. Modest. Soft-spoken. And absolutely delightful. Her name is Glady. She offers us a beer. Sensing my confusion, she explains good-naturedly that, despite appearances, this is actually a bar: they play music in the afternoons, and all the locals come, and wait until we see the backyard. C and I sense we're about to go on an adventure: the ones you least expect are always the best ones.
The first thing Glady shows us is an old stone woolen mill with only one wall remaining; she tells us she's been working on its restoration; that she is a trained stone mason. I ask her no fewer than 50,000 questions about this. Then, she takes us further back to a section she's lovingly turned into an outdoor living room, complete with vintage sofas, a flower-patterned carpet, a stream trunk table, and her own artwork on an easel. A giant window is thrust open on its hinges to reveal a medley of red, orange, and yellow wildflowers that spill into the lawn. This, turns out, is her painting space. And it is magnificent.
Further down on the property, there is a barn. We go inside to find a big, empty space they now use for "barn dances," which start at 2pm on weekends. "You should come back later!" she says. This place is so unreal, we actually think about it. We sign our name on their giant wall of signatures.
Back in the main building, the owner, Jamie appears, a bit disheveled. We feel like we have just popped in on them in their home—which is exactly what we have done. He and Glady are a couple. They play music together. And, in fact, why don't they play us a tune right now?
We rebuff their offer at first: we're the only two people there—how awkward would that be? But then we quickly realize this is the exact kind of experience we have come to the Midwest to seek.
Glady pulls two old-school Genuine Miller Draft beers from the fridge and hands them to us, then straps on what appears to be a ukelele while Jamie grabs a bigger guitar and casually tosses a harmonic in his mouth. They stand up by the microphone, and without so much as hesitating, start busting out Tracy Chapman's "Give Me One Reason." (Click here to watch!) Glady NAILS the lyrics. The two of them are good. So very good! Soon we are clapping along and cheering and the whole thing is so very surreal, like entering Narnia and stepping into an alternate universe. And then I realize that this is what we all must do, no matter where we live: create the perfect conditions for us to thrive.
It is with goosebumps on my arms that I get the sense that somehow, in this hidden old train station up in the meadows of rural Illinois, Jamie and Glady have figured out something that the rest of haven't.
Jamie and Glady have figured out how to be themselves.
And if a small town can help you do that? Well then, no matter who you are, that's a pretty big deal.